Subscription ipTV DELUXE
+ 3200 channels Full HD/HD/SD+7020 VODS Movies in Full HD/4K & Series à jour
Channels : France , Belgique, Suisse, Espagne, Portugal, Italie, Allemagne, Roumanie, Albanie, Pays Bas, Arabe, UK , Latino, Brézil, Russie, Tuquie, USA, Canada, Afrique, Inde,Pakistan
Stable servers of high performance (load balancing)
Compatible with : Smart TV, Android/iOS , Mag et PC and all support m3u
Box Enigma2 (Vu+, Dreambox, Zgemma, ..) et Echolink …
24/7 support and assistance
We accept Paypal & Western Union
48h of Test or Weekend at 2.99$ only
EPG & Logos included automatically
Subscription IPTV Compatible with :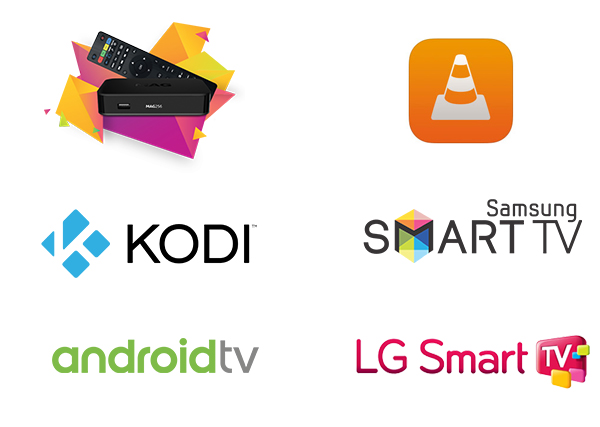 Compatible with all applications capable to read a m3u playlist (or who ingest l'API Xtream-Codes)
Example: Smart iptv, STBEmu, IPTV Smarters, VLC, Kodi, SSiptv, Perfect Player , GSE Smart ipTV, Box Enigma2 (Vu+, Dreambox, Zgemma, ..)…etc
OUR IPTV LIST CHANNELS :
 France , Belgique, Suisse, Espagne, Portugal, Italie, Allemagne, Pays Bas, UK , Russie, Albanie, Roumanie, Latino, Brésil, Turquie, USA, Canada, Afrique, Inde, Pakistan, ARABES  …
+Video on demand : Series & recent movies : regularly updated

IPTV DELUXE OFFERS YOU A TEST OF 48 HOURS AT 1.99 $
Enjoy a test of 48h to 1.99 $ to test the power and stability of our servers and the quality of the iptv channels offered on our offer IPTV. This FREE IPTV to for objective to establish if the service is customized to your affiliation and instrumentality before committing on a iptv subscription of a bigger period additional necessary.
Are you looking for a high quality IPTV subscription? Stable and without cuts with a very good quality/price ratio? You are in the right place
Our IPTV subscription includes :
Who are we Deluxe IPTV Subscription?
We are a IPTV Subscription Provider Smart IPTV,m3u, Mag high quality with many years of experience, our Deluxe IPTV servers have a playlist over 10,000 channels in full HD and SD & VODS in Full HD and 4k (latest movies and series updated),the performance of our servers.
we ensure you receive a very smooth channel with exceptional image quality, will ensure you a better quality when watch your channel and movies, in addition to videos on demand in HD or Full HD and even 4k.
our IPTV subscription is compatible with Samsung Smart TV, LG, Sony and all Android TV and MAG boxes and Android , Apple TV .. . thanks to the Smart IPTV app the activation is completely remote without your intervention or technical knowledge, we also have an Android application under the name IPTV Smarters or IPTV Deluxe Pro that works with identifier and password.
COUNTRIES INCLUDED IN OUR PREMIUM IPTV CHANNELS :
France, Belgium, Switzerland, Spain, Portugal, Romania, Albania, Italy, Germany, Netherlands, Arab, UK, Latino, Turkey, USA, Canada, Russia, Africa, India, Pakistan ..
OUR VODS (videos on demand) :
Latest box office films (feature films: action, science fiction, drama, comedy, documentaries, manga, anime, children, Arabs …), American series, Arabs, documentaries … etc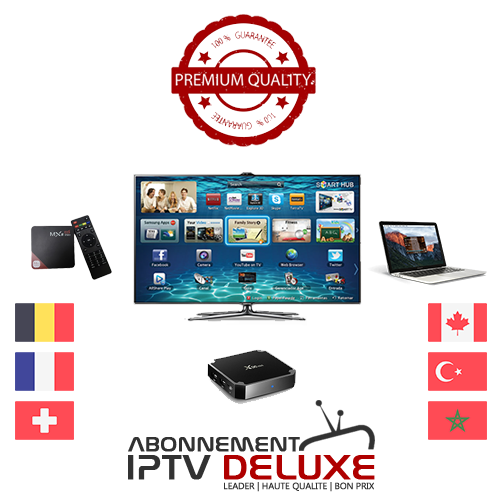 DISCOVER OUR IPTV SUBSCRIPTION FORMULAS
Premium IPTV subscription - 3 month
IPTV Subscription Compatible with: Smart IPTV, MAG, Android, PC, Apple iOS
Premium IPTV subscription - 12 month
IPTV Subscription Compatible with: Smart IPTV, MAG, Android, PC, Apple iOS
Premium IPTV subscription - 6 month
IPTV Subscription Compatible with: Smart IPTV, MAG, Android, PC, Apple iOS